Kurltalk Curl Care Session
Work With Me & Make Natural Hair Care Easy!
Ready to make natural hair care easy, but don't know where to start or how to do it?
Let me help you:
Fully embrace the beauty and potential of your curls
Save time & simplify your hair care routine
Understand the unique characteristics of your natural hair
Build confidence in your ability to care for your natural hair
Set realistic goals and expectations for your natural hair
Comfortably master natural hair!
Work with me and I will show you exactly what it takes to dispel all the myths and misconceptions about natural hair care to finally achieve the health, curls, and confidence you desire.
Without the wasted time, struggle, or confusion!
What does a pharmacist know about hair care?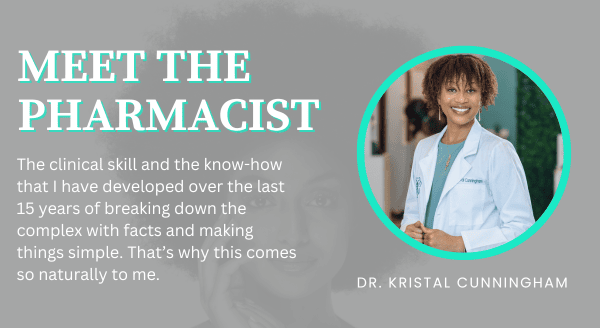 Beyond my ability to dissect the big words and understand ingredients, my intimate knowledge of the facts enables me to deal with the "complexities" of natural hair care, dispel the myths, and empower you to succeed on your natural journey.
Knowing where to go to get the facts and how to break them down seamlessly so that you can understand makes me excellent at what I do! The clinical skill and the know-how that I have developed over the last 15 years of breaking down the complex with facts and making things simple. That's why this comes so naturally to me.
And, did I mention I've been where you are and had the same struggles, insecurities, and frustrations. Now, I know exactly what it takes to change the trajectory of your natural experience and empower you to get the curls, freedom, and curl care confidence you desire.
It's my pleasure to assist you in removing significant barriers to your success and give you the tools, support, and access necessary to confidently and comfortably master natural hair care.
So, yeah, I'm qualified, and I'm ready and willing to give you the tools you need to succeed on your natural journey!
Book a discovery call today!
Book your discovery call today and learn all the ways I can help you make natural hair care EASIER!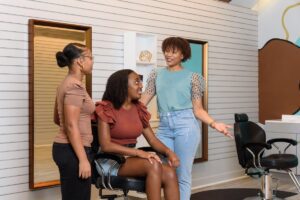 KurlTalk Kurl Care Sessions
Ready to make the transition to intentional curl care? My KurlTalk Curl Care sessions are exactly what you need.
Over the course of 4 sessions, I'll empower you to realize the beauty and potential of your curls, become intentional about their care, and confidently and comfortably manage your natural hair.
What is a KurlTalk Kurl Care Session?
I'm glad you asked!
A KurlTalk Curl Care session is my signature approach to helping you make natural hair care easier! A service with me includes education and training on how to care for your curls and manage your hair in a way that will help you build confidence, save time, and simplify your natural hair routine
While my single sessions are great way to troubleshoot problems, the KurlTalk Curl Care Bundle is what you need if you want consistent training to cultivate and perfect the skills necessary to confidently and comfortably care for your curls.
In this four-week coaching session we will:
Address mindset and limitations to success
Help you understand more about your specific curls
Empower you to become more intentional with product selection and creating a regimen that is right for your hair.
focus on technique and consistency with your curl care regimen
Address any issues you may encounter surrounding application knowledge and remaining consistent on your natural journey.
KurlTalk Bundle
4 KurlTalk Sessions
---
4 one-on-one curl care sessions with Dr. Kristal (1hr)
Topics: KurlTalk Intro, Kurly Concepts, Kurl Care Plan, Wash Day Education
Includes one free Kurlfriend check-in session to troubleshoot problems once complete (30min)
Wash Day 101 Bundle
Support special exhibitions.
---
4 one-on-one wash day training and stying sessions +education with Dr. Kristal (2.5hr)
Topics: KurlTalk Intro, Kurly Concepts, Kurl Care Plan, Wash Day Education
Includes one free Kurlfriend check-in session to troubleshoot problems once complete (30min)
---