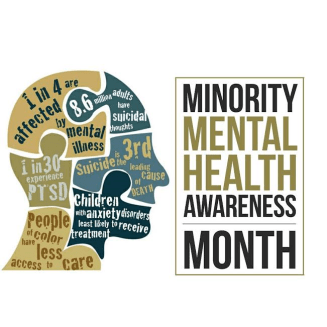 July: National Minority Mental Health Month
July is National Minority Mental Health Month!
In 2008, the U.S. House of Representatives named July as Bebe Moore Campbell National Minority Mental Health Awareness Month. Campbell was a leading African American novelist and journalist, who also was a voice for individuals and families affected by mental Illness.
"Minorities are less likely to receive diagnosis and treatment for their mental illness, have less access to mental health services and often receive a poorer quality of mental health care."
Did you know:
According to the Substance Abuse and Mental Health Services Administration (SAMHSA):
In 2017, 35.1% of black youth and 32.7% of Hispanic youth ages 12-17 received care for a major depressive episode.
Asian American adults were less likely to use mental health services than any other racial/ethnic group.
16.3% American Indian and Alaska Native youth and 13.8% of Hispanic youth 12-17 had at least one depressive episode.
In 2017, 18.9% of adults (46.6 million people) had a mental illness. That rate was higher among people of two or more races at 28.6%, non-Hispanic whites at 20.4% and Native Hawaiian and Pacific Islanders at 19.4%.
What's being done about it?: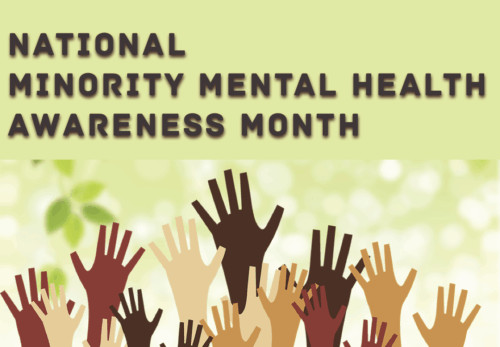 Several heath organizations are teaming up to bring more awareness to improving mental healthcare for minorities. Check out these organizations and what they are doing to spread the word about mental health in minority communities:
The Department of Health and Human Services (HHS) Office of Minority Health (OMH)
Improving Cultural Competency for Behavioral Health Professionals: OMH created a free and accredited e-learning program designed to help build knowledge and skills related to the National Standards for Culturally and Linguistically Appropriate Services in Health and Health Care
The are also joining partners at the federal, state, local, tribal, and territorial levels to help raise awareness about mental illness and its effects on racial and ethnic minority populations.
For more information visit The OMH website
National Alliance on Mental Illness (NAMI)
WhyCare? campaign: This is an opportunity to share the importance of care in our relationships to others undergoing mental health treatment and services, and in support and education to millions of people, families, caregivers and loved ones affected by mental illness.
For more information or to find out how you can participate visit the NAMI website
Mental Health America (MHA)
#DepthOfMyIdentity Campaign (2019): Designed to expand our way of thinking and emphasize the need to address mental health issues with a unique lens while integrating the varied needs of diverse communities.
For more information or to find out how you can participate visit the MHA website
These are just a few of the ways you can help increase awareness about mental health in the minority community. Get involved and help us spread the word. Your care and efforts have the power to make a life-changing impact on those affected by mental health conditions. Healthy bodies are beautiful bodies. Please take the time to be aware of the different issues that may affect you and make a conscious effort to prevent them or seek treatment.