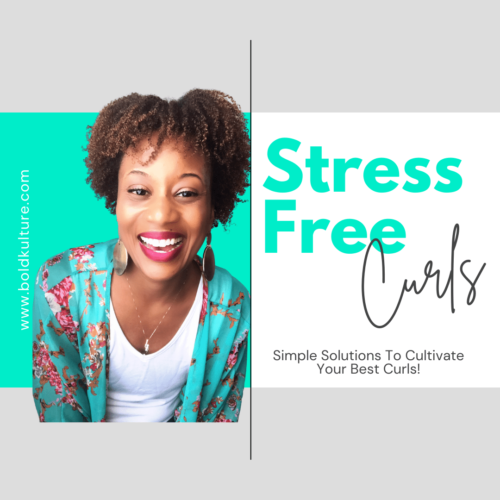 Simple Hair Care And Stress-Free Curls!
Hey Culrfriends! This week is all about helping you maximize your potential when it comes to natural hair care. I know how important our hair can be, its significant role in our identity, and its effect on how we show up in every aspect of our lives.
Stress-free curls
Natural hair care was such a huge pain point for me, but not anymore! Now, I'm determined to ensure that struggle on your natural journey is no longer your reality. I want as many people as possible to experience the joys of caring for your curls without the complexities, misconceptions, and frustrations that historically accompany them. It's time to get what you desire from natural hair care! No more struggle, confusion, complex routines, or overwhelm. Just simple hair care, confidence, and curls that thrive!
Space
How would it feel to:
sleep in instead of restyling your hair before work?
Use your evenings to rest and relax instead of re-twisting your hair?
Transform wash day into a short, enjoyable process?
Get excited about caring for your curls?
Have more time to do the things you enjoy without worrying about your hair?
Space
Amazing right!
Well, Curlfriend's, this has been my reality for quite some time, and it can be yours too.
Yes! It is entirely possible to achieve what you desire for your curls without sacrificing all of your time, energy, money, or attention.
Your weekends, mornings, and evenings can be all your own, caring for your curls can be easier, and your curls can thrive!
The best part. I want to show you how!
Learning my stress-free approach to mastering natural hair care has never been easier! I'm am so dedicated to seeing you win that I've included all of the tools you need to succeed on your natural journey in one amazing bundle!
My Stress-Free Curls Bundle is exactly what you need to build confidence, embrace the beauty and potential of your curls, and confidently and comfortably master natural hair!
space
Secure your bundle today and learn
How to take a more intentional approach to natural hair
Simple strategies to make caring for your curls easier
A fool-proof way to make wash day easier, shorter, and more enjoyable
Space
Join today and receive your free copy of A Curlfriend's Guide To Keeping It Simple – an excellent tool that will help your keep things simple and avoid the unnecessary things that can complicate your natural experience.
If you're ready to transform your natural experience completely, then this is the bundle for you!
Space
Get the tools you need to:
Save time
Become more intentional
Make caring for your curls easier
Confidently and comfortably master natural hair care
space
Included in the bundle:
A Curlfriend's Guide To Keeping It Simple
It Could All Be So Simple
Wash Day 101
Bonus a curated list of quality products and explanations on when and how you should use them!
Space
Act now!
This bundle will only be around for a limited time. Click the link below to get your access today!
Space
Know someone that could benefit from this bundle? Share this post! Tell your friends about Bold Kulture Beauty and help me help as many women as possible build confidence, embrace the beauty and potential of their curls, and comfortably and confidently master natural hair care!