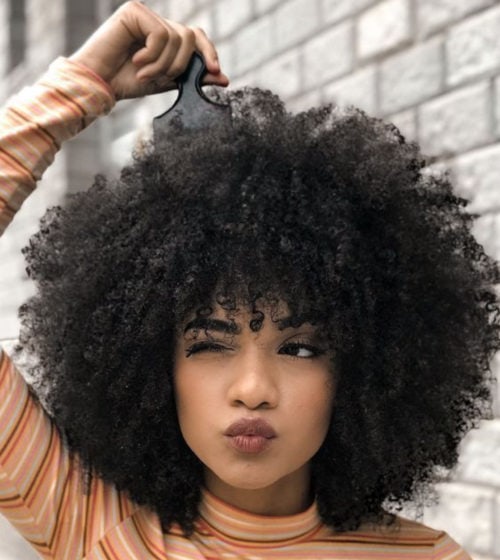 Poor Us: We're Still Struggling with Porosity
Porosity, everyone's talking about it, but do you really know what it is or why it is important to establishing your hair care routine?
I can admit, during the early part of my natural journey, I spent a large portion of time stressing over trying to figure out my porosity. Sadly enough, once I figured it out, I didn't know what to do with it and quickly realized that what I thought I knew was incorrect.
In an effort to pay it forward, today we're looking at porosity, what it means to your natural hair, and how knowing it can be beneficial to you on your healthy hair journey.
"Ideally, hair with a good porosity would fall in the middle of the spectrum with strands that retain moisture and can readily accept chemical alterations if desired. "– The Science OF Black Hair
A look at porosity
By its most basic definition, porosity refers to the hair's ability to absorb and retain moisture. Your hair's porosity can range from low to high. Differences in the cuticle layers, how closely packed they are, and whether or not they are raised will determine how porous the strands are.
Low porosity hair has a tightly packed cuticle that prevents water from being easily absorbed into the hair strand. While the hair will get wet, it tends to take longer and doesn't appear to be weighed down by water. Hair with a coarse surface texture and grey strands tend to have lower porosities. With their tightly packed cuticle layer, low porosity strands have usually not been chemically treated and can be resistant to chemical alterations.
Hair with a good (medium to normal) porosity would fall in the middle of the spectrum with strands that retain moisture and can readily accept chemical alterations if desired.
High porosity hair has less tightly packed cuticles and/or cuticle layers that are raised. These openings in the cuticle layers allow the strands to readily absorb and be weighed down by water. These openings also make it easier for moisture to escape the strands. High porosity strands are prone to tangling and are generally more susceptible to damage.
Causes of high porosity
Your hair's porosity will increase as your strands age. Essentially your hair becomes more porous as we move from the roots to the ends. As your hair ages, regular stress of daily living and exposure to chemical process can cause the protective cuticle layers to crack and peel away making the ends of the hair more porous and less able to absorb and hold on to water.
While your hair's porosity can naturally be higher, several external stressors can also contribute to causing the porosity of your hair to increase. UV exposure and improper hair care including heat damage and over processing with chemicals (relaxers, bleach, hair color) will lead to your hair having a higher porosity. These changes in porosity are indicative of damage and are not reversible. Professional treatments can help to fill in the gaps in the cuticle layer and prevent further damage, but theses fixes are only temporary and will not permanently repair the damaged hair.
Quick Tip: Determining your hair's porosity: Determining your hair's porosity requires your strands to be properly cleansed so that you can assess how the hair absorbs and retains water. Hair that wets easily or is chemically processed (regardless of damage) can typically be considered more porous. Strands free of dirt and build-up that take longer to get wet would be considered lower porosity.
Why simple porosity tests don't work
Desperate for answers and ways to get a handle on knowing anything about our hair, I'm sure many of us have tried our hands at one of many DIY testing methods to discover our porosity. While these tests seem to be easy tools to evaluate and assess the porosity of your hair, they can often be misleading.
Strands weighed down with product build up will often take on the characteristics of low porosity hair. When used in the ever-popular float test, these strands will tend to float regardless of the porosity. Additionally, due to the overall weight of the strand and surface tension of the water, most strands when placed in a cup of water will tend to remain at the surface as well. These factors, ultimately make the likelihood that the test is conveying accurate results very low.
"The key is knowing your baseline and then adopting practices that will help you maintain healthy natural hair."
Why porosity matters
Knowing how your hair absorbs water or other chemicals and retains moisture can be usefully when determining if chemically altering your hair is right for you. Properly identifying highly porous and damaged hair can help you determine when to avoid additional chemical treatments and seek professional assistance to employ corrective measures for your damaged hair.
Knowing that my color treated hair has a higher porosity than normal, I focus on healthy hair practices (deep conditioning, routine trims, cleansing the scalp, etc.) and establishing a consistent routine that will allow me to retain moisture and focus on maintaining hydrated strands. I'm also mindful of the types of shampoos that I use, knowing that synthetic sulfates and harsh shampoos have the tendency to strip the hair and raise the cuticle resulting in more porous strands.
For those with lower porosity, knowing that the strands are harder to wet, avoiding heavier oils and butters that tend to coat the strands and produce a barrier to receiving moisture would be helpful.
Figuring out your porosity doesn't have to be challenging. Since most people can have different level of porosity throughout their hair, the key is knowing your baseline and then adopting practices that will help you maintain healthy natural hair.
References