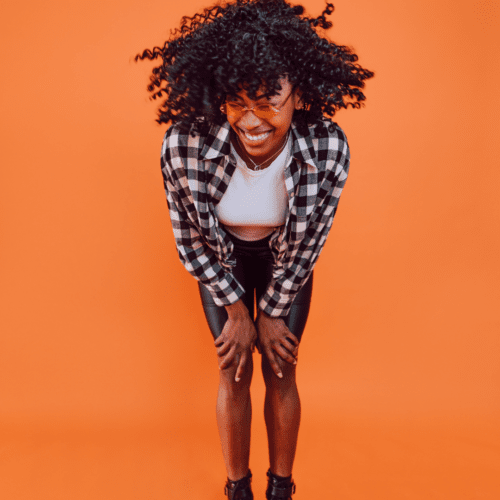 How To Become A Curlfriend That Wins
Hey Curlfriends! Are you a curlfrend that wins?
If you answered yes to this question, Kudos to you! I know what it takes to be a curlfriend that wins and from one curlfriend that wins to another. I am proud of you!
If you're still a work in progress, no worries. Keep reading, and I'll tell you exactly how you can be! 
The struggle narrative isn't helping.
We hear so much about the struggles associated with natural hair care but never focus on how much easier it can be. It's time to change the narrative.
It's not lost on me that natural hair care isn't automatically easy. I have shed some tears, wasted hours and money, dealt with stares and naysayers, and wished that the curls I desired would automatically appear.
We all know and have experienced the traumas and complexities of natural hair care. We share them so much that it has become commonplace. Starting our journeys, we're prepped for struggle and are often reminded that our curls will not be defined, our wash days will be never-ending, and we will constantly battle dryness.
Except, none of this is true!
Don't believe the hype y'all. This does not have to be your reality!
The truth of the matter
We have been misinformed. Whether well-intentioned or not, things like the struggle narrative and "good hair" myths are invalid. Making your products, leaving your conditioner in overnight, and retwisting your hair every evening is unnecessary. Dryness, lack of definition, and complicated maintenance routines do not have to be your problems!
Natural hair care isn't inherently difficult. We make it that way. The things we do and the narrative we accept dictates our level of success, how much we struggle, and if we'll become a curlfriend that wins.
We choose the path we take when starting our natural journey. You don't have to go with the flow or stay on the path that prolongs and promotes struggle.
You can win and enjoy your natural journey in the process.
Becoming a curlfriend that wins!
Equip yourself to become the curlfriend who wins the battle with every struggle you face on your natural journey. Reclaim your time, shed insecurities, build confidence, and simplify your natural hair routine. Goodbye, trauma, drama, and stress. It's time to say hello to what natural hair care should be!
If You're ready to become a curlfreind that wins, start here:
You could go on this journey alone, but why would you want to. While it may seem like it, you did not get where you are on your own. Now it is time to get out of it with the assistance of your curlfriends that win! Ready to change the trajectory of your natural experience? Visit Bold Kulture Beauty, work with me or enjoy my digital resources and let me empower you to become a curlfriend that wins!