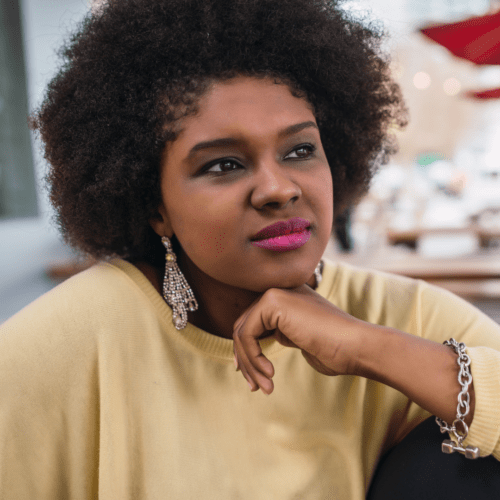 Not Reaching Your Natural Hair Goals…This Is Why.
What's the leading cause of frustration and displeasure on your natural hair journey?.. Not reaching your hair goals!
Your struggles and goals may differ from your curlfriend's but tend to lead to the same place. Especially when the things you desire the most seem just outside your reach. Like the natural hair goals you've worked tirelessly to achieve but can never mark as accomplished.
Struggle is not a given
While the struggle is not a given on our natural hair journeys, it can sometimes be a constant. The struggles you face with dryness length, retention curl definition, and creating styles that last are all very common, but they don't have to be.
My favorite thing to tell my curl friends, as you may know, is that natural hair care can be easier. I say this because it can!
I am a product of natural hair care that is easier, and every curlfriend I have the pleasure of working with becomes one too. Through my journey and theirs, I have learned that all work is not beneficial, and some work is detrimental to cultivating an environment that allows our curls to thrive. When we do all the things without doing the right things, we create frustration, confusion, and waste a lot of time. But never quite reach our natural hair goals.
The narrative that keeps us in cycles of frustration
We tell ourselves that this is how natural hair care should be. Since your hair is not silky or smooth, it requires more work, effort, and attention. We accepted the narrative that struggle is a part of the journey, we believe brands when they tell us that curls can be purchased in a jar, and we desperately seek to create something that, in many cases, is not going to happen. At least not the way we may think or hope it should.
This is the narrative that we inherit when we start our natural journey. No one knows where it started, but we're all introduced to it, accept it, and allow it to dictate our natural journey.
If you have ever struggled on your natural hair journey. If you have been frustrated, overwhelmed, confused, cried, or looked at your hair and not loved it. Today I'm here to help you!
You don't have to keep doing the same things and getting the same results. The struggle narrative does not have to be the soundtrack to your natural journey. It's time to put it to rest. Today is the day we learn what's keeping us from reaching our natural hair goals. Today is the day we take the first step to becoming a Curlfriend that wins!
The things that are keeping you stuck
You're fully aware that you are trapped in the cycle of frustration. Sadly, you're unsure how to escape or successfully reach your natural hair goals.
That's where I come in. I've been here, worked my way through it, and led others out.
When it comes to not reaching your natural hair goals, here are the things that will keep you in this cycle no matter how long you have been natural:
Not embracing your curls.
The lack of an effective curl care routine.
Inconsistency
Unhealthy hair
Constant comparison
A tendency to follow trends or old wives' tales
Misaligned goals
Go ahead, say Ouch! I did the first time I realized that it wasn't products that were keeping me from reaching my goals. It was me and the way I was approaching natural hair care.
If you can relate to any or all of the things I listed. You now know what is holding you back and can prepare to make the necessary changes to achieve what you desire on your natural journey most.
Take a look at what you're doing and how you're doing it, then take the necessary steps to adjust. You can't unsee what I shared today, but you can course correct and start cultivating the natural experience you've been waiting for. One that is easier requires less time and helps you to build confidence in your curls and your ability to care for them.
Need help? I'm just an e-mail away. Visit Bold Kulture Beauty. Schedule an appointment. And get the tools, support, and access you need to make natural hair care EASY!