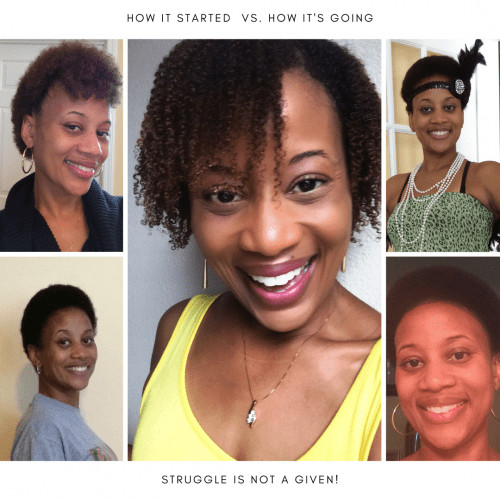 Can natural hair care be easier?
Great question and, I have the answer!
I'm Kristal, your favorite natural hair advisor, clinical pharmacist, and founder of Bold Kulture Beauty. Here to show you that struggle is not a given on your natural journey. That's right! It is entirely possible to disrupt the status quo of natural hair care and get what you desire for your natural curls.
Your curls can be poppin', you can be more confident and comfortable with your hair, and natural hair care can be easier!
Today, we're taking a trip down memory lane to prove that struggle is not a given on your natural journey. I'll show you that It is possible to change the trajectory of your natural experience. I've been where you are. I understand the struggle is real, but I've also learned that struggle is NOT a given on your natural journey, and today, I'll prove it to you.
How it started
It may be hard to believe, but caring for my natural curls didn't come easy for me. My curls weren't always poppin', and when it came to my natural hair, I struggled to be comfortable and confident with my curls.
I was the poster child for doing the most and had very little to show for it. Dryness was a significant complaint. Shrinkage was my Achilles heel. I struggled to find the styles and products that were right for me, and wash days went on forever. I was greasy, confused, frustrated, and ultimately overwhelmed with my natural s experience.
It wasn't all bad, but my initial experience with natural hair care was less than ideal. I struggled for a while (wasting time, money, and energy) until I realized something was missing.
Breaking up with the struggle
No one tells you that struggle is not a given on our natural journey. Instead, you're inundated with misinformation, opinions, and others' bad experiences that prep you for struggles more than success. It doesn't to be that way.
Struggle is not a given on your natural journey!
Here's what I did and what you should do to change the trajectory of your natural experience.
Forget what you've heard about natural hair care – drown out all the negative chatter & opinions
Consider what you know about your curls – evaluate the source and usefulness of the information
Focus on what matters – Develop an intimate knowledge of your curls
Embrace your curls – accept and appreciate the characteristics of your curls
Get intentional about your curl care – stop doing the most, keep it simple
Grant yourself some grace – practice patience and be consistent
That's it y'all! No magic potions or complicated routines. Just well-applied knowledge, intentional curl care, and consistency. I know you're skeptical. I was too, but trust me, it works! We're lead to believe that the secret to success lies heavily in products and extensive routines, but that's not where the magic lies. The quickest way to break up with the struggle is to overcome the nonsense with knowledge.
I've given you the key. Now it's time to unlock the door to success!
To learn more about mastering natural hair care and achieving your hair goals, visit Bold Kulture Beauty.