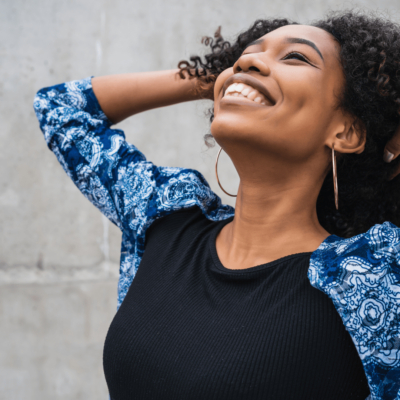 Smashing Your 2023 Natural Hair Goals
All right, curlfriends 2023 is in full swing! I have one question for you… what are your natural hair goals?
I'm intentionally posing this question after the New Year's resolution rush. I want you to be as intentional as possible when deciding what you're trying to achieve for your natural hair. Admittedly, your goals may be the same. At least this way, you won't fall into the category of people who set a goal and fall off by the end of February.
On this side of the Internet, we are committed to setting and achieving goals. That's why I'm going to show you a few things you can do right now, regardless of your natural hair goals, to help you get closer to achieving them.
If you're ready to crush your 2023 natural hair goals, start here:
Learn more about your natural hair!
Identify your hair's specific needs!
Cleanse and condition your hair routinely!
Become intentional about hair care!
Focus on improving the health of your hair!
Remain consistent on your natural journey!
I know what you're thinking, curlfriends. It sounds like work, and it is, but it doesn't have to be hard. It will not be complicated, and if you do it right, it won't be time-consuming either. You see, struggle is not a given on your natural hair journey. Everything becomes easier when we approach caring for our natural hair with the right mindset, practices, products, tools, and techniques.
Tools For Success
So this year, as you prepare to crush your 2023 natural hair goals, make sure you have the right tools in your toolkit to ensure your success. For starters, you can check out my "Good Hair Masterclass." In it you'll discover exactly what's missing when understanding your hair and setting a foundation for success on your natural journey. Then grab a copy of It Could All Be So Simple! My step-by-step guide that lays out everything you need to know to understand your hair better. Create intentional hair care plans and remain consistent on your journey while creating an environment that allows your natural hair to thrive. And, of course, you can always connect with me at boldculture.com or any of my social media outlets, where healthy hair cultivating and time-saving gems are constantly being dropped.
Seriously curlfriends. This should be the year that you abandon the struggle narrative, reclaim your time and control of your natural hair experience, and enjoy natural hair care as it should be. If you're serious about saving time, building confidence making natural hair care easy, and reaching your 2023 natural hair goals, there's no better place to start than here and now!
If you're tired of getting hung up on things that distract from what matters most, I would love to serve you. Click here to discover my game-changing natural hair resource. Then, connect with me in-store or online at Bold Kulture Beauty and get the tools, support, and access necessary to save time, build confidence, and make natural hair care EASY!