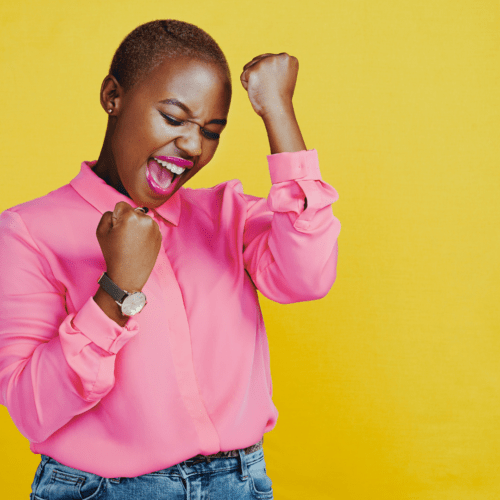 Yes, It's Possible. Even For You!
Hey Curlfriends, can I be transparent today? Through working with many of you, I've realized that there are some issues that we need to address concerning our natural experience and our belief in the possibility of success. Today I want to remind you, curlfriend, that it's possible. Even for you!
If you're like me, we sometimes find it very easy to believe in good outcomes for others before we believe them for ourselves. This was true in my life and on my natural journey. The constant struggle and minimal outcomes made me very skeptical about my natural experience and whether I would achieve my hair goals.
I almost gave up on the idea of a fruitful natural experience. The struggle narrative was on repeat in my head. Then, I realized that despite what I thought and had been experiencing, an easier natural experience was possible, even for me. Today I want to remind and encourage you that it's possible, even for you.
Can I show you how to flip the script of the struggle narrative to make success possible?
If you're serious about overcoming your struggles on your natural journey and are ready to believe that success is possible. Even for you. Keep reading!
Struggle is not a given
One of my favorite things to share is that struggle is NOT a given on our natural journey. This applies to every curlfriend, regardless of the unique characteristics of your hair. When starting our natural journeys, there is always a glimmer of hope. Then, we adopt these narratives that blind us to the possibility of success.
Ready to flip the script and make success a possibility, even for you? Here are some of the things that keep us from being successful. Take notes, and starting today, you'll be equipped to address them.
The struggle narrative
The good hair myth
Our obsession with shiny hair
Our desire to have long hair over healthy hair
Believing homemade mixtures and popular trends are the answer.
Natural hair hang-ups that distract us from what matters most
These things keep us from being successful and stunt our progress. They are also not based in fact and are usually the leading cause of struggle and frustration on our journeys. These things can be defeated quite easily. To do it, you must be willing to abandon the comforts of what has become familiar and focus on getting intentional bout natural hair care.
Knowing the truth makes it all possible. Even for you!
Curlfriends, you've been misled. It's no fault of your own and probably wasn't intentional. Still, the damage has been done. The only solution is to replace falsehoods with the truth. Accepting the fact allows you to address areas of misguidance and flip the script on the false narratives that kept you struggling.
More than amplifying the fact that success is a possibility even for you. It invites a level of clarity and intention that makes reaching your hair goals and simplifying your hair care routine inevitable. How do we get to the truth? It's simple!
Learn the facts about your natural
Intentionally apply that truth to the way you care for your hair
Consistently follow proven healthy hair practices
Remain consistent, trust the process and repeat
Changing the trajectory of your natural experience is easier than you think. A simpler, more enjoyable natural experience is possible. And yes, It's possible. Even for you! Your curl type, age, hair color, or length can't change that. Your level of success depends on you!
If you've made it this far, I know you're serious about succeeding on your natural journey, and I would love to serve you. Now that you know success is possible, head to Bold Kulture Beauty. Explore our hair care resources, or work we me directly and get the tools, support, and access needed to make natural hair care EASY!